February 3, 2023

Xingge Jinze Building, Zhuhai

Strategically located in the heart of the Pearl River Delta in the vicinity of Hong Kong and Macau, Zhuhai is fast becoming the Delta region's infrastructural capital. The Xiangzhou North Industrial Zone once fueled Zhuhai's rapid development in the 1990s. Now, it is undergoing a transformation that sees it converting into a high-tech industrial-city complex. The project's design is inspired by the striking rock formations that sit along the Zhuhai coast. For thousands of years, they have proudly looked down on the bay and are known locally as "auspicious stones".
The new mixed-use complex, Xingge Jinze Building is designed to be Zhuhai's new landmark, emblematic of the prosperity to come for the coastal city. Simple yet elegant, the design concept borrows from the symbolic "auspicious stone", with a topography that complements the skyline like freehand brushwork. Blessed with abundant surrounding greenery, the development also captures the beauty of Jingshan Reservoir and Shixi Park as if it were framed artwork. Xingge Jinze Building sits at the northwestern end of the Xiangzhou North Industrial Zone. With an impeccable location adjacent to the city's main high-way, it is surrounded by lush forests and lakes, overlooking Zhuhai Theatre and Xiangzhou Bay.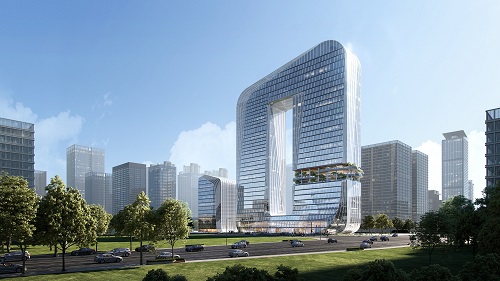 The site's long, narrow, and irregular plot is a key constraint. With a construction site to the east and restrictions on the line of sight traverse, the M0 mixed-use layout is planned to include traditional office (including top-floor executive suite), retail, serviced apartments and clubhouse.
Paying homage to local landscapes and stacked rocks, the massing is informed by two simple but powerful outlines that are abstract and asymmetrical, closely resembling a totem pole. The core of the west block is hollowed out to encourage wind circulation and prevent a sense of overcrowding, with an additional aim of amalgamating built and natural environments. As well, cross-cutting is employed on one side of the mass to open up a sky garden.
The M0 industrial housing is situated in the quiet inner ring of the building, whereas serviced apartments and offices are street-facing. To maximize efficiency, the core compartment is moved to the right side of the complex, and elevators to the upper floors located in the center, connected through a shared main lobby. As such, the different functions can operate independently but not be completely removed from each other.
The building façade is modeled after the body of a rounded stacked rock, creating a streamlined massing volume. The inner and outer corners are cut to form a contrast with the main façade. The sculpture-like exterior produces a dynamic visual experience when observed from different angles, infusing Zhuhai's unique personality into the design to honor the city's status as a "Garden City".
The project is quintessentially an ecosystem of itself, a living building where slices of nature blend with urbanism to form an iconic landmark in the Xiangzhou North Industrial Zone.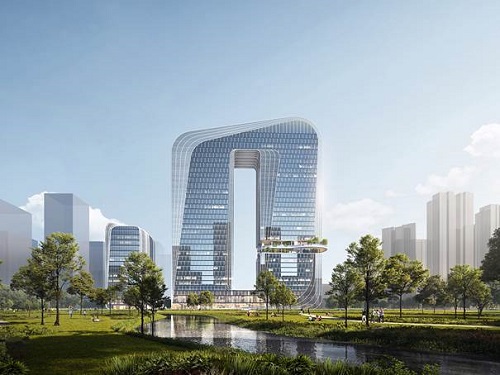 Project
Zhuhai Xiangzhou North Xingge Jinze Building Project
Location
Zhuhai, PRC
Owner
Zhuhai Xingge Urban Development Co Ltd
Design Architect
Joint venture of Aedas and Guangdong City Construction Company Planning Design Limited Company
Gross Floor Area
135, 715 sq m
Status
In Progress