Swire Properties and Lujiazui Group, on September 30, celebrated the opening of Taikoo Li Qiantan, their joint-venture retail complex situated at the heart of the Shanghai Pudong New Area. Taikoo Li Qiantan, the first "Taikoo Li" project in Shanghai, is tailor-made for the Qiantan International Business District and follows the successful landmarks of Taikoo Li Sanlitun in Beijing and Sino-Ocean Taikoo Li Chengdu.
Spanning a total floor area of approximately 120,000 sq m, Taikoo Li Qiantan maintains the essence of the "Taikoo Li" brand, renowned for its open-plan and lane-driven architectural design. The project features the "Double-open park concept", a wide expanse of open green space and lanes across the ground level and rooftop, connected by an 80-metre-long Scenic Bridge overlooking the Huangpu River.
Taikoo Li Qiantan's wellness-themed shopping concept is showcased with the south and north zones, also known as the "Stone Zone" and the "Wood Zone", which feature a naturalistic design concept inspired by stone and wood across the façade and which are connected via an 8,000-sqm central park. The two zones offer a diverse mix of luxury and contemporary fashion labels, lifestyle brands and F&B concepts, with all of these elements coming together to create a unique 'Wellness' experience for visitors.
Anchor tenants on the rooftop (L4) include Japan's Tsutaya Books' 3,000 sq m flagship store, as well as Japanese professional sports brand ASICS' first Running Station in the Chinese Mainland, creating a community hub where like-minded visitors are connected via cultural, entertainment and wellness events.
Taikoo Li Qiantan incorporates innovative digital technology to appeal to customers across different age groups. A major highlight is the 450-metre Sky Loop surrounding the rooftop of the complex. As Shanghai's first AI digitalised running track within a mall, the Sky Loop features professional running and walking tracks, equipped with facial recognition technology. The track provides digitalised changing rooms as well as a gentle slope that rises to the roof of Tsutaya Books, providing an interesting yet challenging route for runners. Wellness has been infused throughout the complex, with art installations integrated into the architectural facade, the provision of baby-care rooms, as well as a smart car parking system.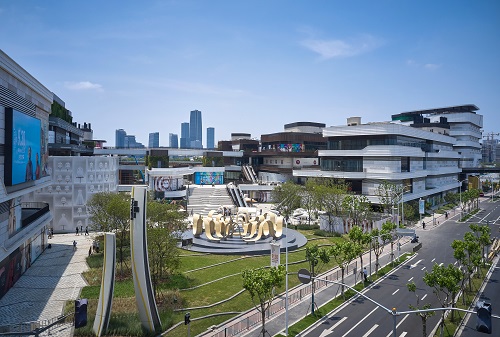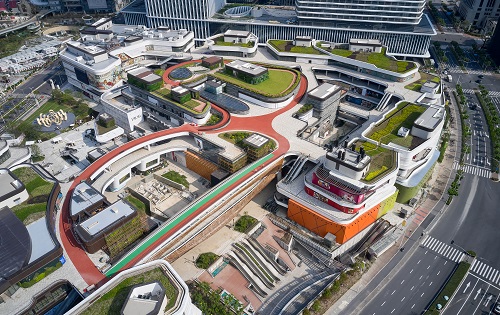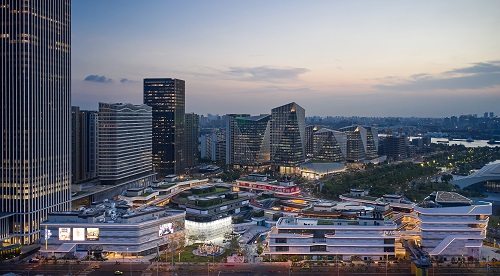 (Source: Swire Properties)