The Board of the West Kowloon Cultural District Authority held its 98th meeting on 18 June. Henry Tang Ying-yen, Chairman of the WKCDA Board, reported on recent progress in different areas of the West Kowloon Cultural District.
Mr Tang reported that the construction works of the Hong Kong Palace Museum (HKPM) are progressing smoothly. Mechanical, Electrical and Plumbing (MEP) and fire services equipment installation have been substantially completed, and entered the final stage of testing and commissioning. The statutory inspection has started in mid-May 2021, with the target to obtain Occupation Permit in the third quarter of 2021 and achieve Practical Completion by the end of 2021. Mr Tang also reported that the Certificate of Practical Completion was issued to M+ in February 2021. Preparation works, including artworks installation in the exhibition halls and the interior finishing of retail stores, are in progress to welcome the opening of M+ at the end of 2021.
All the staff members of the authority have moved into the WKCDA Tower in May 2021. On construction projects, site area of the L1 Project is progressively handed over to the L2 Project, and the preparatory works for the related MEP and Architectural Builders Works and Finishes are in progress. The L2 building works are being constructed up to the B1 basement mezzanine level.
As for the Integrated Basement (IB) in Zone 2A, the pre-drilling and ground investigation field works have been completed. The pre-excavation works include tubular piles and grouting, socketed steel H-piles and large diameter bored piles, as well as the alterations works on the top of the High Speed Rail station structure are in progress.
The authority is in the process of finalising the documents for the foundation works contract for the IB in Zones 2B and 2C and Underground Road. The works is expected to be completed in approximately 26 months after the contract is awarded. Besides, the authority is about to award the consultancy contract for the detailed design of the IB in Zones 2B and 2C and Underground Road.
On construction of the Artist Square Bridge (ASB), the elevator installation project in the lift tower is in progress. The main bridge structure has been delivered from Mainland China to the site for assembly. In anticipation of the M+ opening, the ASB is set to complete ahead of schedule by the end of 2021.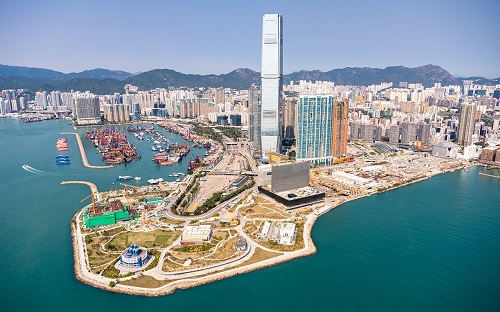 (Source: WKCDA)