According to government figures released in September 2020, Hong Kong will have 2.58 million elderly persons aged 65 and over in 2069, taking up 38.4% of the total population. Demand for quality senior housing is rising rapidly but meeting it in Hong Kong's high-density environment is a challenge like no other.
Ventria Residence is a case where architects, designers and operators come together with a strong commitment to building an active elderly community in the form of a senior hostel, residential care homes for the elderly (RCHE) plus a redeveloped church building. The concept is to provide a medi-hotel like residence with a continuum of quality care available to seniors, offering a desirable and fulfilling high-end residential experience.


Human-centric vertical architecture
While some senior living developments in Western countries have the luxury to go horizontal with open spaces spread out between low-rise blocks, the lack of available space in Hong Kong means that vertical is a more viable solution.
LWK + PARTNERS, architect of the project, sought to tackle the challenge with a single 22-storey high-rise building of 168 units accompanied by a multitude of care facilities, recreational and shared social spaces. Functional spaces are strategically stacked, dividing the building into RCHE floors, senior hostel floors and amenity floors which are vertically connected through a building core designed to facilitate efficient circulation and operation. Residents have convenient access to various amenities without stepping outside the building while care services can be delivered with minimal delay. Every detail responds to the needs and pace of living of senior residents to make retirement life a fulfilling experience.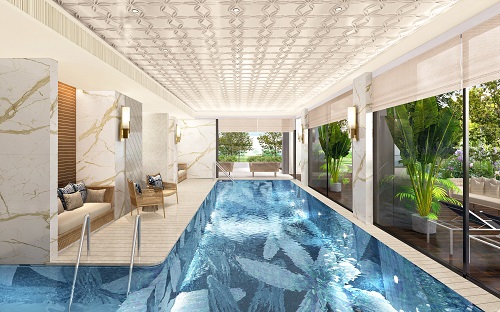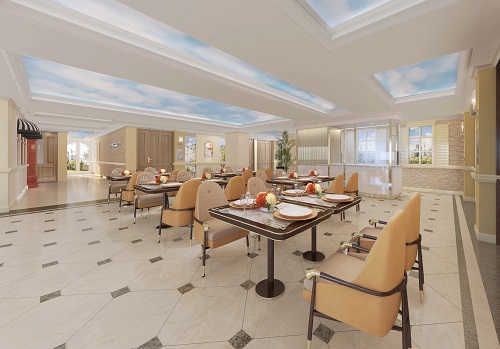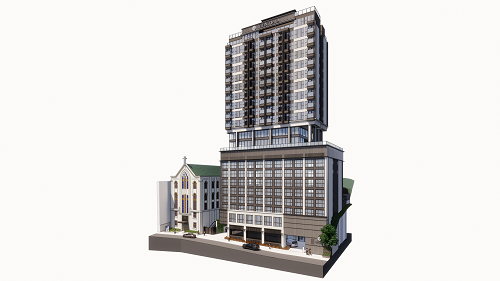 Reconstruction of 75-year-old church
Building a strong community is a key part of active ageing. Ventria Residence is also home to a church block rebuilt from a 75-year-old church. The original building was a pointed house with an enclosed stair tower attached to one side of the façade. Though it can no longer satisfy the needs of the current church community, it is nevertheless a symbolic reminder of the church's local roots.
The architect decided to rebuild the church by recapturing the spirit of the original design, mirroring part of the original architectural form and envelope to create a symmetrical building. Part of the design involves conserving architectural features with historical values and reinstalling them in the new space, dynamically fusing the old and new. Most notably, these include four iconic timber trusses taken from Hong Kong's only structural timber pitched roof trusses system at its time. A lift was also introduced for the convenience of elderly users.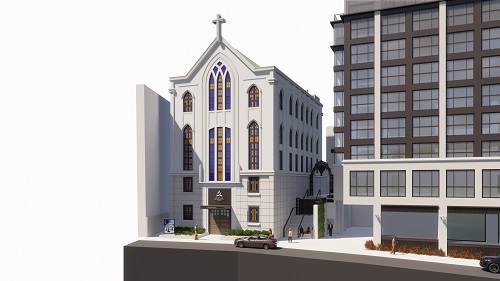 Leading the way for BIM-assisted efficiency
LWK + PARTNERS has long been an adopter of Building Information Modelling (BIM), a growing worldwide trend in real estate and the backbone of smart technology integration in this project. BIM is applied throughout the whole building life-cycle from design and construction to operation to boost efficiency and the ultimate user experience.
During design and construction stages, a Common Data Environment (CDE) is adopted to facilitate design, visualisation, construction safety, coordination, quantity taking, cost control and construction planning. At operational stage, facility management is fully integrated with CDE, IoT sensors and robotics to collect data on things like temperature and indoor air quality, to inform operators about the current living environment and conditions of elderly residents. Such data can be further analysed to inform future similar developments, and provide timely feedback to tailored care programmes.
An active lifestyle is a combination of good health, quality living and sense of belonging to a community. Ventria Residence is on the way of setting the trend for addressing these all under one roof amid the urban intensity of Hong Kong.


Fast Facts


Project name
Ventria Residence

Location
17B Ventris Road, Happy Valley, Hong Kong

Developer
Hong Kong Macao Conference of Seventh-Day Adventists

Project Manager
Roseville Senior Living Management Ltd

Architect
LWK + PARTNERS

Total GFA
13,230 sq m

Expected completion
2022