The 88-storey Dongguan International Trade Center main tower is the tallest building in the city of Dongguan, Guangdong province, China. The development, conceived in 2010, occupies a site area of approximately 104,871 sq m. The entire project comprises 5 office tower blocks of two 20-storey, one 46-storey, one 73-storey and one 88-storey high office towers. A 6-storey podium provides lavish space for an integrated shopping and commercial complex. The main office tower stands at an overall height of 428.8 meters and was topped out in the third quarter of 2019. The main portion of the shopping complex was opened back in late-2018. Developed by the Dongguan Minying Group, the total development cost for Dongguan International Trade Center is approximately RMB10 billion.



Long recognized as one of China's largest manufacturers of foreign goods, Dongguan now hopes to establish itself as a showcase for products conceived and designed by home-grown talent. The Dongguan International Trade Center, a master-planned mixed-use development that broke ground in the heart of downtown in 2012, will play a key role in shaping the city's new identity.
When fully completed, its five towers – including studios for creative technology companies – will rise above a six-level retail complex of stores and restaurants. Other amenities will include an ice skating rink, an amphitheater, a rooftop park and an exhibition space highlighting Dongguan's commercial past.
Designed by 5+design, the project was inspired by Dongguan's natural surroundings, namely Huangqi Mountain and, at its peak, the lantern commemorating the spot where the legendary glow of fireflies around a banyan tree guided fishermen home from the sea.
Though the project's five towers feature distinctive shapes and designs, they will share a family resemblance through their materials (reflective glass and metal panel) and connect with one another by the eminently walkable campus. The tallest tower – an office building crowned by a club, an observation deck and a symbolic lantern of its own – rises 428 meters, and its chamfered silhouette is intended to evoke the yulan magnolia, the official city flower, in bud form. A 260-meter tower will contain office space and a club topped by residential floors. A 195-meter tower will house a bank. Two shorter towers will serve as a hotel and creative studios, respectively.
Fittingly, careful attention has been paid to the landscaping. Fountains, waterfalls, and lush plantings will soften stone walls, terraces, and plazas around the tower. Glass skylights open up allowing natural light to brighten lower-level shops, and glass bridges offer unobstructed views of everything below.
The façade of the building includes a mixed curtain wall system on each elevation and an atypical cladding solution near the crown. Here, a metal louver screen wall diffuses the glow of a large lantern on the rooftop. The façade system will also contribute to the efficiency of the building, which is aiming for LEED certification, along with the other four buildings in the complex.
Other amenities in the building will include an ice skating rink, an amphitheater, a rooftop park, and an exhibition space highlighting Dongguan's commercial past.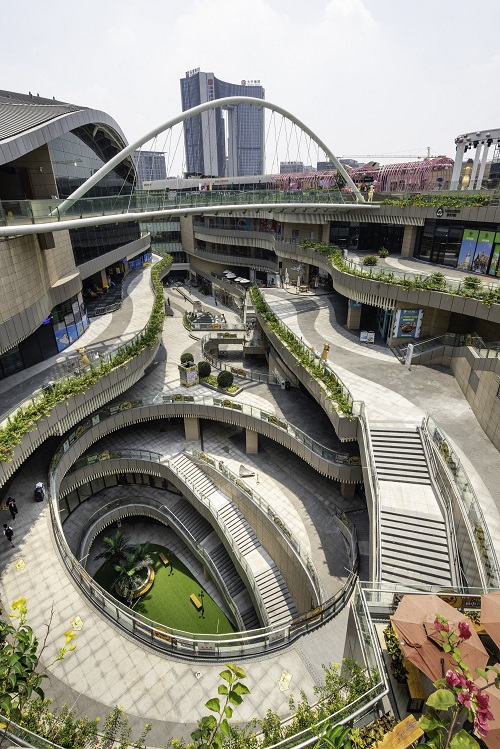 project
Dongguan World Trade Center
developer
Dongguan Minying Plaza Development Co Ltd
architect
5+design
site area
104,870 square meters
building area
1,049,237 square meters
landscaped area
26,637 sq m(at 25.4 ratio)

(Source: The Minying Group)