The West Kowloon Cultural District Authority (WKCDA) announced recently that it has awarded the Works Contract for the Foundation and Excavation and Lateral Support Works for Integrated Basement/Underground Road in Zone 2A of the West Kowloon Cultural District (WKCD) to Bachy Soletanche – Fujita Corporation Joint Venture.
Foundation and Excavation and Lateral Support (ELS) works for Zone 2A will soon commence with main works to follow. The Contract Works is funded by the government and entrusted to the authority. The authority aims at completing the topside Hotel/Office/Residential (HOR) development in phases starting from 2025/6.
The Integrated Basement in Zone 2A, Zone 2B and Zone 2C (IBZ2) altogether is the largest site remaining at the district to be developed with an area of about 200,000 sq m.
It is located between the Xiqu Centre and the Lyric Theatre Complex. Since a large portion of the commercial and all of the remaining arts and culture facilities are located within Zone 2, completion of the IBZ2 is crucial for the financial sustainability of WKCD and the completion of this ambitious project.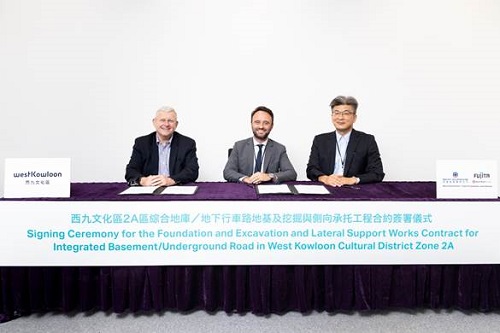 (Left to right) Duncan Pescod of WKCDA, Matthieu Gueydier of Bachy Soletanche and Naoki Yamada of Fujita Corporation