December 27, 2018

Phase 1 infrastructure works of Kwu Tung North and Fanling North NDAs gazetted

The first phase infrastructure works of Kwu Tung North (KTN) and Fanling North (FLN) New Development Areas (NDAs) was gazetted on December 14. Secretary for Development Michael Wong said the government aims to seek funding from the Legislative Council for the first phase works in the first half of 2019 and commence land resumption and clearance for the first phase area in the second half. This is a significant step forward as the project is poised to enter the construction phase.
The development of the KTN and FLN NDAs (formerly known as the Northeast New Territories) involves large-scale resumption of private land (including brownfields) in the New Territories. He said not only are the two NDAs a core part of the government's multi-pronged strategies, they are of critical importance to the housing supply in the medium and long term.
Of the total area of 612.5 hectares (ha) for KTN and FLN, almost 50% is preserved for the Long Valley Nature Park (LVNP), green belt and agricultural uses. The actual development area is about 320 ha. Upon completion, the NDAs will provide 72,000 housing units (nearly 70% as public housing) for about 190,000 people and create more than 40,000 job opportunities. Population intake is expected to start in 2023 and infrastructure works to complete in 2031. Full implementation of the NDAs will thus take more than 10 years to complete.

The first phase development will require resumption of 68 ha of private land, as well as clearance of 100 ha of government land, 18 ancestral graves and two urns. It includes two sites of approved land exchange applications covering a total area of about two ha, as compared with the 68 ha of land to be resumed by the government in the same phase.

First phase works covers site formation and engineering infrastructures, including roads and sewerage, construction of the Fanling Bypass, as well as establishment of the LVNP as an ecological mitigation measure. Taking into account the payment of zonal A ex-gratia compensation for private land to be resumed within the NDAs, the estimated land resumption and clearance cost will be over $13.3 billion, whilst the main works will cost about $18.2 billion, representing an average cost per sq m of land of about $19,000. These figures have yet to take into account expenditures regarding the provision of rehousing units for affected villagers (including means-tested public housing units and non-means tested rehousing units), assistance to farmers on agricultural rehabilitation, as well as the reprovisioning of the residential care homes for the elderly (RCHE) in Dills Corner Garden.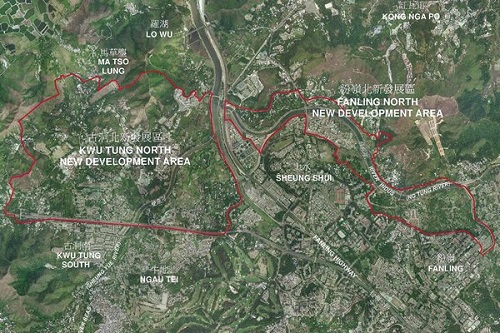 Online and Offline year round advertising package from
HK$2,300 per month <click here> for details